I know it's technically still summer, but it's beginning to look a lot like Christmas for those of us in the world of photography…
it's time to start thinking about booking your holiday session!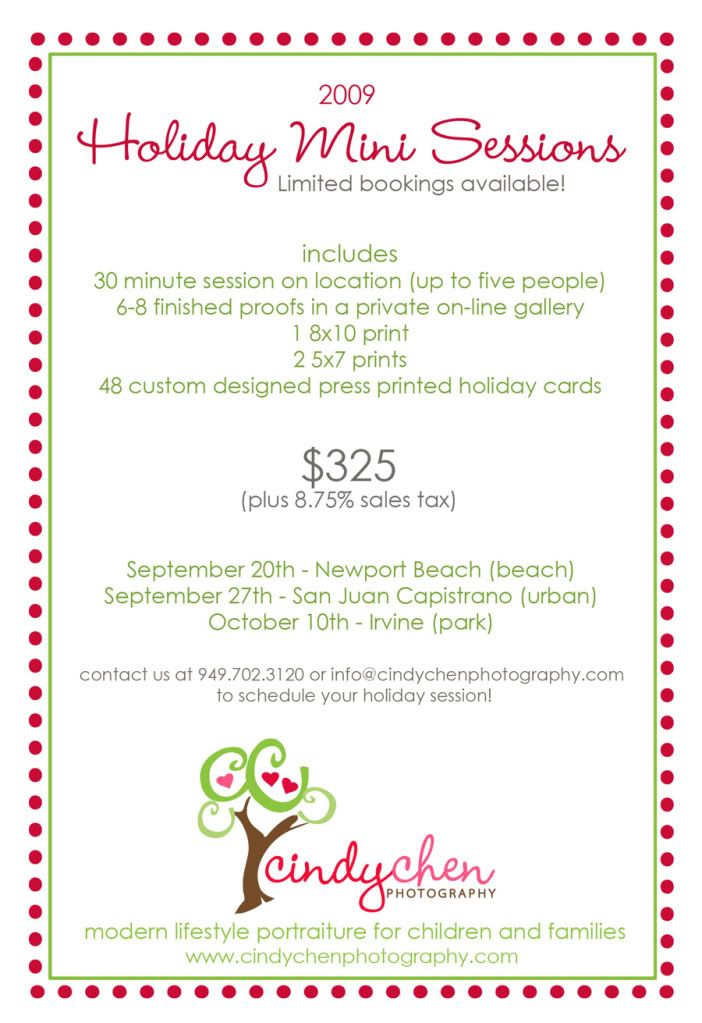 Similar to last year, I will be offering both a limited number of full sessions and mini sessions for your holiday portraits.  I have already begun scheduling sessions for September and October so if you are thinking about booking this Fall, don't delay because dates are filling up, especially those prime weekend dates!
And to sweeten the deal, book a holiday session by Monday, September 7th, 2009 (Labor Day) and receive a complimentary 11×14 print from your session (an $85 value)!
Frequently Asked Questions
(they always help me, so I've include them here to help you!)
Who should book a regular session?  Who should book a mini session?  What's the difference?
If you are looking for the ultimate custom photography experience, book a regular (full) session.  All regular sessions are held at the location of your choice and on the date of your choice (pending availability).  You have the option for outfit changes (which I strongly encourage because it's fun to mix it up).  On average, your session with me will last 1.5 to 2 hours.  You will receive a minimum of 30 proofs in your private on-line gallery which will include a variety of family, sibling, parent, and individual shots, loosely posed and lifestyle.  All prints, cards, and specialty items are ordered separately.  Contact Cindy Chen Photography for a full price list.
If you are looking for to capture that perfect image for your holiday card (whether its the entire family or just the kids), then a holiday mini session is for you.  The main goal for our holiday sessions is to get the perfect image or images for your custom holiday card.  Time permitting, smaller groupings and individual shots will be taken.  Each mini session lasts for 30 minutes and is scheduled on a specific date/time and location (see above).  You'll receive between 6-8 fully edited proofs from your mini session.  Our mini session fee also includes a few prints and 48 press printed cards.  Additional items may be purchased a la carte.  There are no outfit changes during the mini session.
What time will your mini sessions be held?  I noticed they aren't listed.
Mini sesions will be held in the late afternoon and early evening to take advantage of the best natural light.   If you would like to book, email me your the date/location that you are interested in and I will let you know what times slots are available. If I have enough requests for morning sessions, they may be added.  Please email me for availability.
What are your holiday cards like?
All of our holiday cards are press printed by a professional lab on cardstock weight paper and come in your choice of gloss finish, matte finish, or linen.  They 5×7 in size, flat, printed on both sides (front and back), and come with envelopes.   We have a variety of custom designs from to choose from, from fun to traditional!  Our holiday card gallery is coming soon!  
Here are two of our card designs being offered this year.
The front of every design comes with a coordinating back side, that you can either leave blank or add an additional image or two.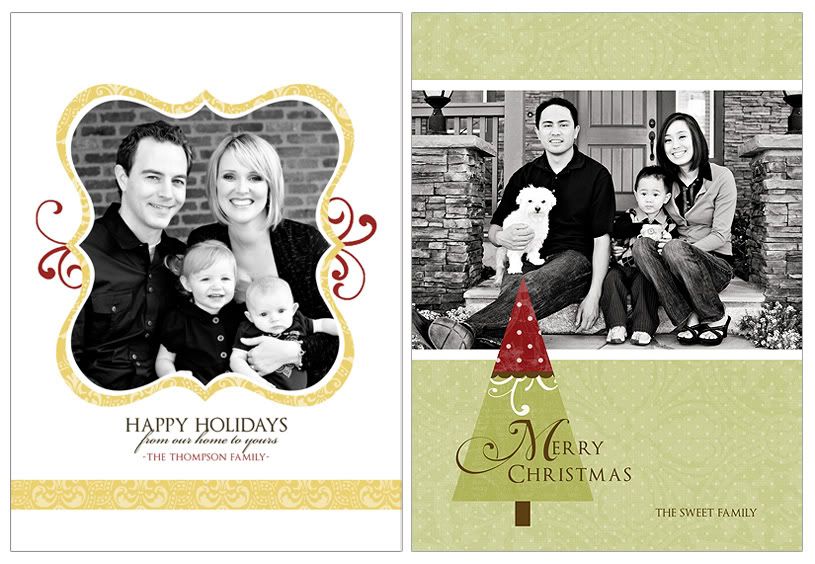 I am ready to book!  What do I need to do next?
 Contact us with the date  you are interested in and if you would like to book a mini session or a regular session You can call us at 949.702.3120 or email info@cindychenphotography.com.  You can also use the contact form on our website or the blog. Due to the limited number of spots available, we require payment of your session fee within 5 days of booking to secure your date and time. If payment is not received in that time, we reserve the right to release your spot to someone else.
Please note that all holiday orders must be placed by November 1st, 2009 to ensure holiday delivery. 
If you order is placed after that date, I cannot guarantee delivery on all items by Christmas.
If you have any questions, please don't hesitate to ask.  I'm always happy to speak with you or chat via email! I look forward to hearing from you and enjoy the rest of the summer!